Hurunui o Rangi Hapū Karanga Hui June 2019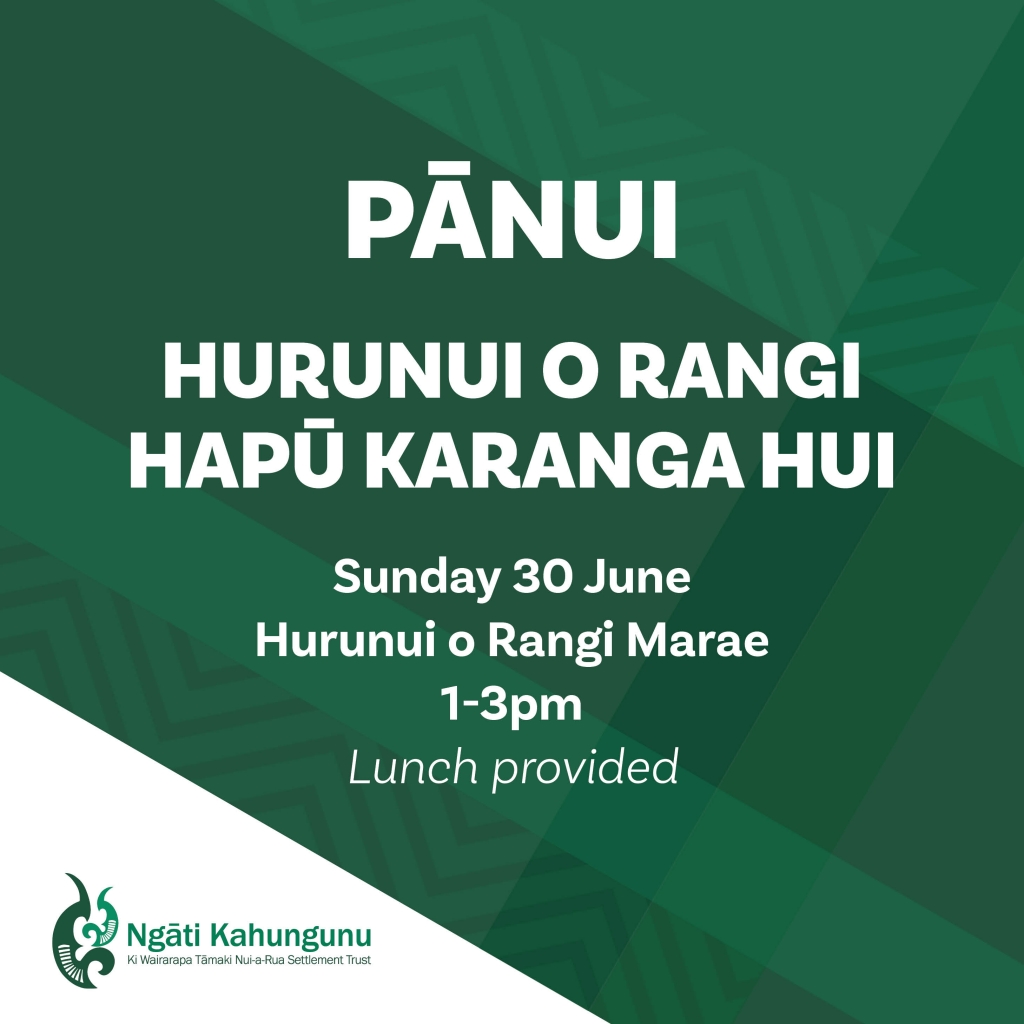 Chairman's message for 2019
E ngā mana, e ngā reo, e ngā karangatanga maha, tenā koutou katoa!
2018 was a crucial year for our iwi. And I'm proud to say that we collectively achieved what we set out to do. From initialling the draft Deed of Settlement in March 2018, the ratification process that we undertook in October and November 2018, and the Waitangi Tribunal Hearings for resumption of the Ngāumu Forest, there have indeed been challenging times. But we persevered and remained committed to the overarching focus - on building a better future for Ngāti Kahungunu. The commitment and dedication shown by our people is something we can all be proud of.
We now look forward to consolidating the great progress made in 2018. The start of this year has certainly begun with promise and anticipation. On Monday 18 February 2019 we received notification from the Crown that the Minister for Treaty of Waitangi Negotiations, Hon Andrew Little, and Te Minita Whanaketanga Māori had reviewed the ratification results for our Deed of Settlement. The Crown confirmed that they believe the ratification results show sufficient support from our iwi members for the Deed of Settlement to progress.
Furthermore, the Crown has indicated it is unwilling to sign the Deed of Settlement for Ngāti Kahungunu ki Wairarapa Tāmaki Nui-a-Rua Settlement Trust until the outcome of the hearing is known. On Monday 25 March 2019, the Crown responded regarding a new timetable for the settlement legislation. Unfortunately, because of several factors including government resourcing and availability, the Waitangi Tribunal hearings will not be completed until around December 2019. Therefore the Crown will not sign our Deed of Settlement until well after these hearings have taken place.
While further delays are frustrating, we must allow this process to run its course. The Crown has also acknowledged this is a cause for frustration for us, and that it has already been a long path for Ngāti Kahungunu. We apologise for the disappointment caused. It certainly wasn't the timeframe we had expected, but we remain positive and dedicated so we can build a brighter future for our iwi.
We will continue to keep you informed on the progress and outcomes. In the meantime, you can contact any of your Trustees, or the administration team, with any queries or questions.
Nākū noa, nā
Robin Potangaroa
Chairman
Results from the vote on our Settlement – You said āe
Voting on our Settlement is now closed. We are very pleased to share that the results report from the independent auditor showed that 71.7 percent voted yes/āe in support of the Trust signing the Deed of Settlement on behalf of the iwi.
A total of 71.5 percent also voted yes/āe in support of the resolution for the Trust to acquire the two Landcorp farms – Wairio Station and Rangedale Station - on behalf of the iwi.
Thank you to all our whānau who had their say! You have spoken, and we have heard – it's time for us to unite and move forward.
You can read the Ratification Information Booklet online here.
About the Trust
The purpose of Ngāti Kahungunu ki Wairarapa Tāmaki Nui-a-Rua Settlement Trust is to represent all our iwi members in negotiating the settlement of our Treaty of Waitangi grievances with the Crown.
The initial Trust was established in December 2010 following extensive consultation with our iwi, hapū and marae. Our trustees were elected by Ngā Hapū Karanga.
We have now transitioned to our Settlement Trust as we work towards completing this important kaupapa for all those who whakapapa to Ngāti Kahungunu ki Wairarapa Tāmaki Nui-a-Rua.
Register
Everyone who has whakapapa to Ngāti Kahungunu ki Wairarapa Tāmaki Nui-a-Rua is welcome to register with us.
Why register?
Registering is the first step to:
Staying up to date – you'll receive regular pānui on important issues and decisions affecting our Ngāti Kahungunu ki Wairarapa Tāmaki Nui-a-Rua Settlement
Having your say – if there are any further votes on matters related to our Treaty Settlement in the future, registered members 18 years or older will be able to vote and have their say.
Or, if you want to know more about your Ngāti Kahungunu ki Wairarapa Tāmaki Nui-a-Rua whakapapa, please contact us on 0800 559 867 or info@kkwtnr.org.nz – we can help.