Our progress so far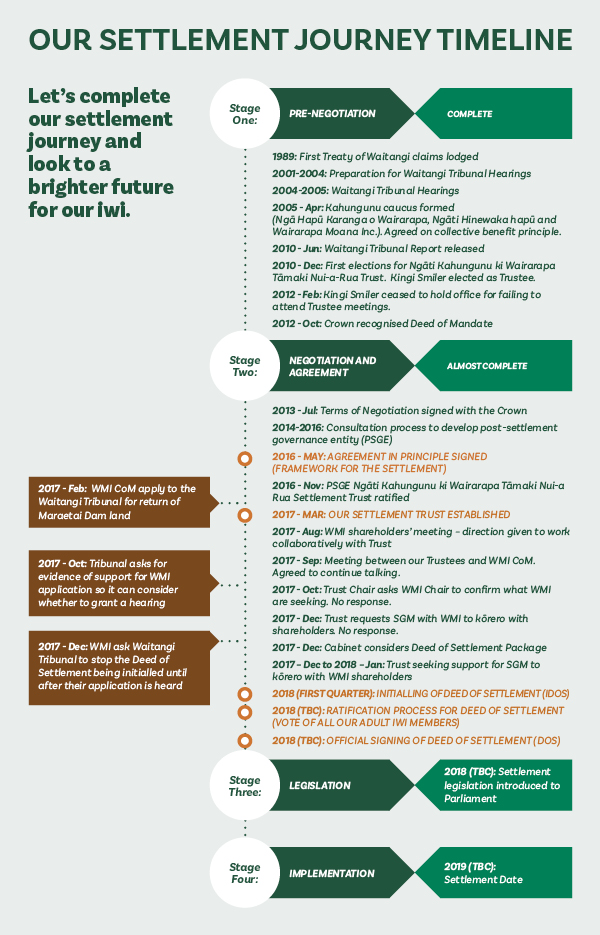 Communications
The Ngāti Kahungunu ki Wairarapa Tāmaki Nui-a-Rua Settlement Trust views communications as important, as it seeks to keep members of the claimant community advised of settlement developments as far as possible.
The Trust Deed also provides for accountability mechanisms to members of the claimant community. This includes Trustees reporting back to whānau at scheduled hapū karanga meetings, providing a summary of the minutes, and reporting via media (such as website information). You can view the pānui page to keep up to date on news being shared directly with members.
Presently the Trust is still within the process of signing the Deed of Settlement. This means the key items of business are confidential. The confidential aspect of negotiations is a requirement within the Terms of Negotiation the Trust has entered into with the Crown.  This prevents the publication of meeting minutes.  However, this page is designed to fulfil the requirements to provide a summary of the minutes (items that can be discussed freely), and to provide up-dated information for hapū karanga meetings. Claimant community members are welcome to contact their representatives to discuss any items on this page.
Trust Board Updates and Summaries of Minutes 
Click here to view updates and summaries of minutes for Trust Board meetings between December 2015 and May 2017.